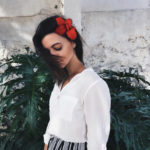 Dive, swim and surrender to weightlessness. It is not necessary to wait for a trip to the sea to catch this state of carelessness. It is enough to feel this thirst for adventure and go in search of your happiness. The main thing is to take with you a set of temporary tattoos "Floral diving" with the image of a dolphin diving into flowers. Combining the incompatible is your way of showing your uniqueness.
Additional information:
Best quality

Safe and non-toxic

Easy to apply

Plant based organic paints

Simply remove with baby oil

For anyone from 3 years old

Shipping
Безкоштовна доставка від 500 грн при оплаті картою (Україна). Відправки понеділок-п'ятниця, всі замовлення зроблені після 15:00 у п'ятницю, поїдуть до вас у наступний понеділок.
Новою Поштою по Україні - від 70 грн
Міжнародна доставка Укрпоштою - від 300 грн (до 14 днів)
Міжнародна доставка DHL - від 1500грн (до 5 днів)

Payment
Мінімальна сума замовлення на сайті - 100 грн
банківськими картками
Apple/Google Pay
Приват 24
Оплата при отриманні